Lucky
I can't believe my luck. When I started thinking about doing this bag with a verigated yarn, I wasn't 100% sure it was going to pool the way I wanted it to, and then I briefly thought about trying to figure out how to work the pattern from the middle of the base, so the color pool would continue properly up the long sides of the bag, since the pattern continues there. I soon realized that was insanity, and I decided to just do it as written. I had after all unwound all my Noro skeins to match up color variants, since this pattern calls for double stranding... that was insane enough..there are only a few places in the yarn where the colors don't match up directly, and then they end up blending into the next color properly, just a bit further on. My desire for the color to be the same at the edges of the base worked out though, I can't believe my luck here. LOOK!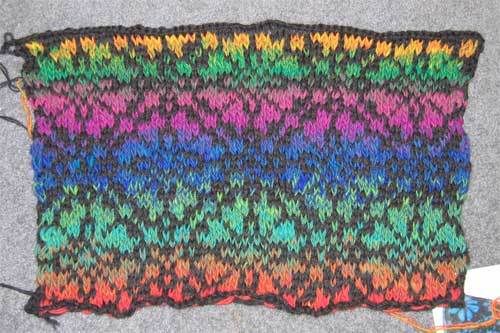 The yellow edge is the ending edge, and it is already starting to go orange, and I have started the new rounds (after picking up stitches and all that) so that the yellow edge was the first knit in the round, so that by the time I got to the orange edge, the yarn had already gone orange. WWWEEEEEEEEEEE! I know the pooling stripes on the body will be smaller than they were on the base, but it seems to be working out kind of how I'd envisioned it. I like it when the plan comes together!
PS. the color here is a little better than the previous photo, but still isn't really accurate.