Pottery Camp
I got to go to Pottery Camp this weekend! Actually, it was a retreat called "Cabin Fever Reliever" and was held at a 4H camp near the coast of NC. (we got to sleep in bunk-beds and all, but fortunately the bathrooms were in the rooms and not a latrine down the trail) It was COLD but fortunately the weather held out and it was pretty at least. Our main activities were indoors in a pottery studio though, 4 days of it. There were 4 studios of 6 that were offered that were held this session; of those 2 were clay based, one metal work, and the other photography. The clay groups shared information, and I'm really happy they did, as we got a lot of useful information out of both instructors.
There were 8 people in my immediate studio, and we bonded pretty quickly. Everyone was really nice and those of us staying on site worked in studio in the evenings after the presentation and group activities. We had a bunch of skill levels in the studio, and I think we all learned from each other as well as from
Don Davis
our instructor. We were mostly throwing techniques in our section, and
Lana Wilson's
section was hand-building. They made some beautiful layered texture boxes. (all of the instructors were fun in the group activities.) Our biggest challenge was a large pulled handle for a teapot. We all made other things, but most of us went home with teapots. I've tried pulling handles before, but this was my first successful one, and a big one at that. I also threw some lids on my own for the first time, and threw those off the hump which was a new technique for me as well.
Anyway, here is a photo of the put-together but un-finished in the detailing, teapot shortly before it got packed up to take home, where it will be finished.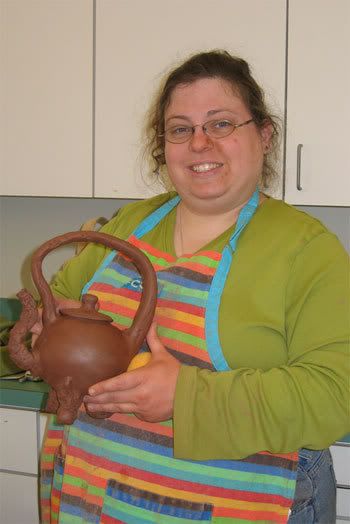 We used two new kinds of clay for me. A red earthenware, and this one the teapot is in, which says it is a brick red. I'm interested to see what it fires up like, because right now it has a yellowy tint to it. The red earthenware was sticky and had really sharp grog in it, and wasn't a lot of fun to throw, but this Brick Red clay is nicer, still a bit sticky though. I can't wait to finish this and see how it turns out.