Busy Season
Lots has been going on throughout the holidays. Traveling in November and December, in additition to normal at home holiday stuff. We hoseted a holiday party, and I got a new boss, when my old one gave up some responsibility at work for health reasons, and then decided to leave the company alltogether after the new boss had been there for a few weeks. I was recognized for 10 years of service to the agency, (even with the layoff and re-hire) which was really nice, I wasn't expecting that, but it included a bonus check which is appreciated. Work has gotten really busy too, but I'd rather be busy than bored.
Here are some formerly promised images before I get too far into this.. The more or less finished feather vase, the feather lines didn't come out completely, but you get the idea. I really want to get peacokck feathers to put in this vase though.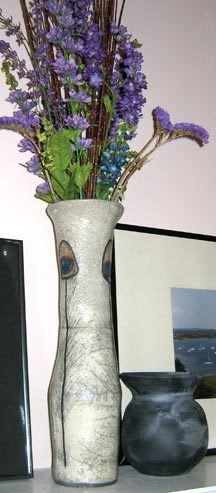 Next we have a project I did one of the days I took off when I was supposed to be cleaning for the Christmas party... a topiary. It took the better part of an afternoon, but I'm super pleased with the results, even if more of the glue ended up on my fingers than on the topiary I think, and hot glue hurts sometimes.
The niece and nephew at Christmas.. aren't they cuties? They were really excited for Santa to come.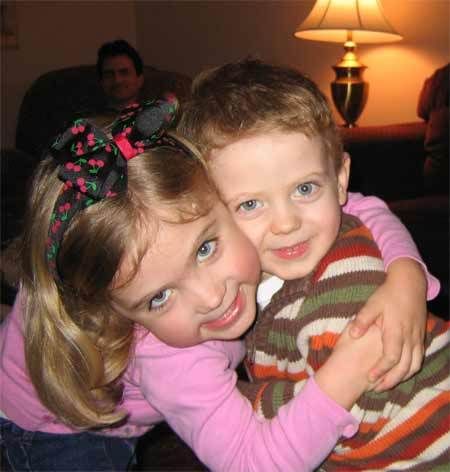 And one of our Christmas presents from my mom. She got this chiar reapolstered for us. The guy did a great job on it, and he thinks the chair is over 100 years old. All I knew was that my grandmother had it at her house and then my parents had it reapolstered when I was in jr high and it was in our house since then, and now she has had it recovered again for us. I got to pick the fabric, so that was great, since I feel like I have some big people furniture now. Most of our stuff is hand me down stuff from when I was in College, and still has "other people's" coverings on them, so nothing is entirely my taste. (maybe one day when I win the lottery that will change. ;) ) She actually got 2 done for us. The other one is boxy and from the 1940s similar fabric colors although the print is circles. I like the striped one better, but they are both great.
Next we have the more or less finished Hoover (the edging hadn't been done in this photo, but the knitting was through FINALLY! since it had been on the needles in various forms since APRIL) I love the way it looks, but won't be doing any more double knit items for a while. It was given to it's recipient when we were in VA for Christmas, even though he was born in November. I hadn't finished it until just before Christmas, so needless to say there wasnt' any Christmas knitting done for this year.
Next we have my November/December Pottery project, they were a process.. Textured trees, they are reminiscent of Dr Seuss, and Hooville, or the dancing mushrooms in Fantasia. I started them after seeing a tree decoration I really liked in a catalog, and thinking they might be good for gifts, but they look so fun as a "forest" that I may have to make some others as gifts for a later date. They look nothing like the tree that was the original inspiration, and maybe oneday I will get to make one more like that, but these are fun and full of movement, which the photos don't necessarily show the best. They also turned into a project in texture, that was heavily influenced by the Kathy Triplett workshop I did in the fall.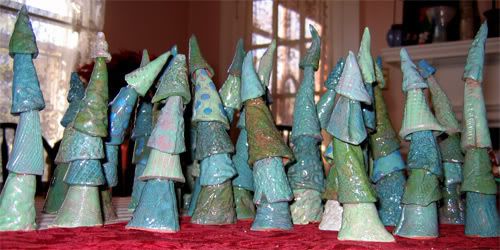 After Hoover was finished I got to start on a pair of socks. I was able to work on them at a new year's day party at a friend's house where I actually got quite a bit done on them. (but on size 3 needles, progress takes a while.) At this party, I got to meet a friend of our host, who it turns out, not only went to Design school with me (graduating during my first year there), but also works at my semi-local yarn store. (at least the one I prefer to go to) And I'd seen her there the Friday before when I met up with
Yorkie,
on her annual visit to the states and the in-laws. Anyway,
Denise
brought along her knitting and worked on a dishcloth (the Mason Dixon one on the Peaches & Creme Ball Band) while I worked on my toe up socks. I'd really only brought them along to knit on in the car in the travel time to and from Raleigh, but since there was another knitter there, we sat and knitted and chatted away. Not a bad way to start the new year. Although I haven't had a lot of opportunity to do any more on them this week. But Teddy wanted to model the progress.
The yarn is Koigu K some number of P's and an M. one of the balls has a lot more of the red purple in it than the other, but the funny thing is they seem to be pooling similarly opposite. That is where the one is pooling the darker red purple, the other is pooling the lighter blue. it is kind of funny and cool at the same time. Once side of the sock is more obvious for this than the other.
In other news, I auditioned for and was cast in the upcoming musical at the theatre. The show is a musical version of the ugly duckling story called "HONK!" it won the Olivier award in London as best new musical the year it came up for it (sometime in the 90s) (the Olivier is their version of the Tony) It never came to Broadway, I don't think. Anyway, everyone in the cast is some sort of animal, with the majority of the cast some sort of bird. I'm playing a hen, but that is about all I know at this point, since it has been 2 years since I read the script, and rehearsals don't start until tomorrow, so I don't have a script yet. I'm not one of the big principals, I do know that. This is a good thing, given that work is still slated to be kinda crazy for at least another few weeks. (theatre is stress relief though)
Went to the latest gallery opening last night, which kicks off the 50th anniversary year for the arts center, and there was some AMAZING naked raku pottery in one of the shows. I got to meet the artist, but didn't get much insight into how to get the desired results, but with nkaed raku, as with regualr raku it is a lot of trial and error. But now at least, there is an example at least for a little while, in the gallery of a finish I want to achieve with some of my work.
That's enough for now. I'll try and update again before February, but I've been bad about it lately.