The results are in...
We're pleased overall.
That brown color at the front claimed to be ketchup red.. didn't come out that way, it mottles nicely, but the yellow that was on that one completely ran off!!! Weird. Won't be using that one too much. That blue on what will be known as the "glub glub vase" was supposed to be a purple color, but I love it, and it does go lavender over white. there were some places that went more lavendar than others. It is called "Glub glub" vase for the cool sounds that you can make with it when you put water in it. The highlights you're seeing is from the sun going down coming straight into the studio windows.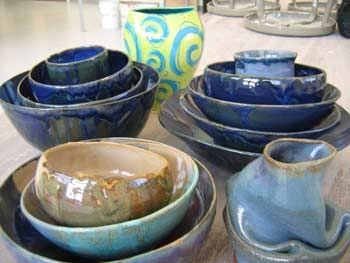 Spread out view on the table.....
When in doubt, floating blue over white is the way to go! Always have good results with this combination... although it seems that this white produces slightly different results (more cobalt blue) than the satin white I've been using. It goes on the pots thinner too.
And the swirl vase you've been waiting for.... (this is the opposite side than the side that was picured last time)
Unfortunately, the bowls I was planning on donating to the art auction have glaze flaws, still usable, but not appropritate to donate to the auction now. There are a few alternates here though that may work, but I have another month or so before the paperwork has to be turned in. The auction isn't until the Friends of the Arts Centre Masquerade Ball on October 28. Should be loads of fun.