Warm fuzzies
This arrived on Wednesday.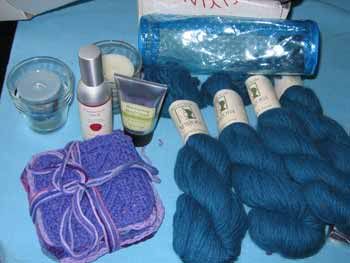 Lovely lovely angora yarn, so soft and squishy. The temperature was in the 90s and so the candles were smelling and the chocolate (not pictured) was all melty and yummy. My Wonderful SP had the foresight to put it in it's own plastic baggie though. it was a Green and Black Bar, and now I know what everyone has been raving about. It is really good, and I even shared with Robert. (and there is still a little in the fridge, since I had Jazz class that night) Thank you my wonderful SP, I can't wait to decide what to make with this lovely yarn.
In other news, made some really nice bowls this week, lets hope they make it through bisque fire and glazing without any trouble. Have some travel coming up but only weekend jaunts but it is a change of scenery, and we will get to see family.