Up to...
Here is some of what I've been up to, I wasn't able to knit as much backstage as I had hoped, as I was assigned to dresser/makeup duity for the Scarecrow's quick changes into and out of Oz, and was on set change duity in the second act with into and out of the witch's castle numerous times....
The Clapotis photos are from over a week ago, I'm in the decrease sections now, and have completed the first two repeats of that, so 5 more to go, plus secton 5 of the pattern and then it will be done.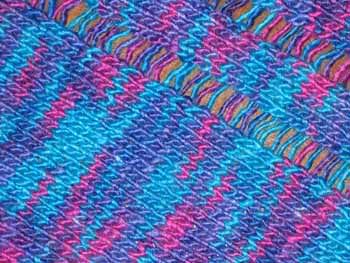 I played a Crow in the first act and we got to sing and dance with the Scarecrow when Dorothy discovers him. He's a great kid, and very talented, I really enjoyed working with him. The Blonde I had worked with on a couple of shows before, but it has been about 7 years, I think she was glad to be back, and the other lady had a kid who was a munchkin, and her husband got really involved with the tech side of things helping to build the sets, and was on the fly crew during the run. Turns out, she used to work with Robert, and is from "his neck of the woods." Small world. Met alot of other interesting people during the show too. (I mean with a cast of 50, how can you not?) I'm looking forward to getting to know some of them better in the future, we need more interesting people around here.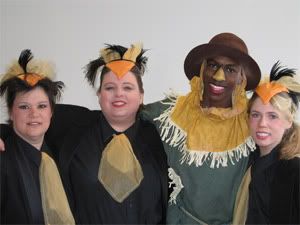 The show was sold out for the entire run, and seemed to go over well. The Cast & Crew bought a brick for the lobby of the facility (sponsorship kind of thing) to commerate the first show. And I had a friend visit from out of town to see the show, it was good to see her, however briefly.
Pottery classes are finally starting back in a few weeks, I'm more than ready, I need the outlet. Work is having it's days, and other stuff is still... eh.. but not as bad as it was a few weeks ago.