On Your Mark...
I've been in desperate need of a creative outlet lately. Motivation is low, I have several Freelance and other projects hanging over me, some are on hold for lack of information or waiting for the powers that be to get back to me sort of thing. The Education Coordinator doesn't come on board at the Impreial Centre for another two weeks, (I've met her she is very nice AND knows how to knit.) but with that, who knows when pottery classes will acutally begin again.. rumor around Christmas was it may be April. Even though I'm in the Wizard of Oz, I'm in the chorus, and too tall to be a munchkin, so there is little stage time, which equates to little rehearsal time, at least at this stage, and lots of down time during the actual run of the show. What's a girl to do??? Join in the "Knittng Olympics" of course.
The concept was created by
Yarn Harlot
on her blog, and the long and short of it is, you pick a knitting project that is somewhat of a challenge for you, you cast on during the opening ceremony of the Olympics and have your project finished by the closing ceremony. (the idea is to knit while watching the games) apparently there are over 2,000 knitters who have joind in this game, and teams are being formed and such. I've joined Team Knittyboard. (see the button in my sidebar)
Since I haven't knit lace before, I've chosen a Knitty pattern called
Cozy
it is a pattern I've been wanting to do since that issue came out. The lace pattern is kind of snowflakey, or at least that what it reminds me of, I've selected a lovely aqua silk yarn to make it in. Here is a photo of the yarn: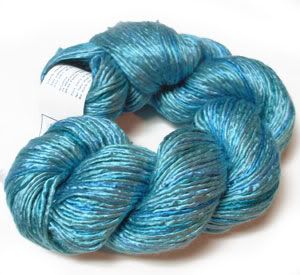 (I bought mine through
kpixie
, where I "borrowed" this image from too. Go there they have lovely stuff.)
I've also decided that I finally want to do
Clapotis
as well, from the same issur of Knitty, and all my knitty buddies have made theirs, so I'm going to try to have that one finished by the end of the run of Wizard of Oz on March 26. I've ordered yarn for that one too. I LOVE the way the pattern runs in one direction and the color runs in another on the photos in the pattern, so to insure I got that effect, I ordered the same yarn as what the designer used, but in a different colorway. (Lorna's Laces Lion and Lamb, my colorway is called "Pacific Berries" and is Blue, Blue Purple, and Raspberry colored. You'll have to check back to see what that one looks like though. ;) ) This yarn is 50% silk, 50% wool. I'm looking forward to both projects. (and they will be done just in time for warmer weather..go figure.)
I'll try and remember to post progress photos as I go along. All you knitters, why not join in??