SP Success.
Okay.. so Today after an icky day with a sinus headache and all that... I get home to find my first "official" Secret Pal package for this round (which started in September and was scheduled to end this month) This is from my "Understudy Pal" as my original pal flaked... I call it the first official package because some of my chat buddies acutually have sent me "RAK" kinds of packages (thanks MaryMac and RobinCat :D).
Anyway, here is what she sent: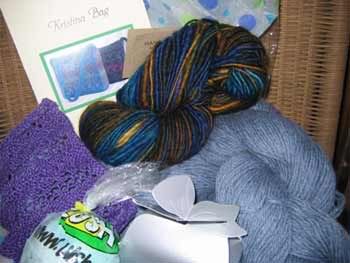 The pattern is for a really neat intarsia felted bag, and the yarn will be great for that pattern. The silver box at the front had chocolate truffles in it. One was raspberry and the other was some kind of spice thing... but was delightful... the purpple thing is a handmade washcloth and in the front left is a bath bomb, which is from England that the SPers have been chatting about, so now I get to find out what it is they've been chatting about. It smells lovely. THANKS Secret Pal.
I had some other stuff I was going to talk about, but I think I will save that for another time.