Pretty Pretty
Lookie what arrived today: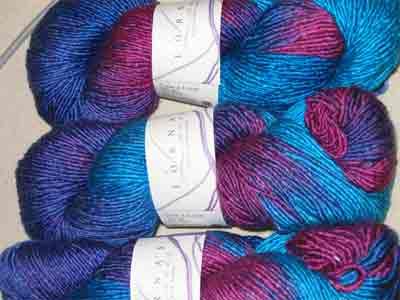 This is my Pacific Berries colorway of Lorna's Laces Lion and Lamb for my very first Clapotis, (see link below someplace) I'm THRILLED with the color, it didn't even look this pretty in the photo I picked it out from.
The silk for the Knitting Olympics hasn't arrived yet, hopefully tomorrow... and I hope to be just as pleased with it, as I am with this selection.
In the meantime, I must finish this project, from the pattern my Understudy pal had sent. I'm up to 4 and a half repeats of six, and then have to do the strap so it really shouldn't take that much longer before felting.
So that is a nice start to the weekend.