Bakers Dozen plus one
So over the weekend, I was in the pottery studio. I was in great need of my pottery fix, since we had been out of town the last two weekends, so I had only been on Thursday nights over those weeks. I had amassed a great collection of pieces that needed glazing. (Plus I needed to get them off my shelf to make room for my raku bucket so I can start re-claiming that caly before class begins on the 6th) But first... progress on cigar gloves for Robert :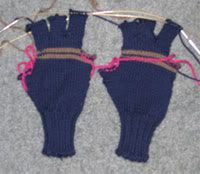 The fingers knit up really quickly, but I have to have Robert around to keep trying them on since he has long fingers, so if he is gone, or asleep it is no good knitting on them. They shouldn't take too much longer to finish though.
So here is the mass of pots I had to glaze: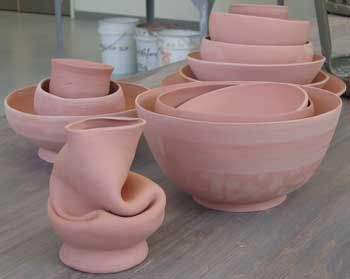 and spread out on the table: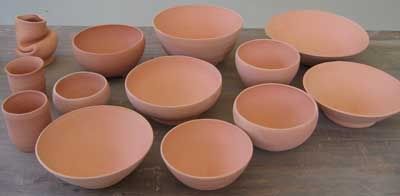 They had mixed some new cone 6 glazes and hadn't done a glaze fire since, so the majority of the bowls got the standby that I know I like the result of which is a white base and an overcoat of floating blue. (all the recent pot pictures have been this combination) I did use the purple they mixed on 4 pieces including the vase you see at the front of the first photo. And one bowl got the "ketchup red" and "yellow" tested on it, it was the smallest worst thrown piece, since I'm funny about reds and yellows, and we don't know how these are going to come out. I didn't want to "waste" one of the better pots with an unpredictable glaze color. (I like purple enough that it was worth risking a few more pieces) They should have come out of the kiln late this afternoon or will early tomorrow, but I won't see the results until Thursday proabably. The red and yellow bowl, and one of the ones with the purple didn't make it into that firing either, she had a pretty full load with my other stuff in addition to the other open studio users.
the other piece I worked on glazing was more on this piece: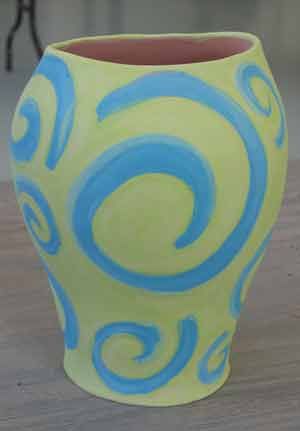 This initial coloring was painted on the bone dry greenware (that means it hadnt' been fired at all yet) these are underglazes, and here it has been through the bisque firing, and in this case, they are a velvet finish, which means they aren't shiny, and to me, they have a feel kinda like a shammy cloth. Anyway, I took some glaze chalks that I have and made some other swirleys on the pot, a green similar in hue to the chartruse that is on there, and a blue green to "sketch up" the torquoise ones, and then I added the blue green to the interior of the pot. These chalks mark very much like chalk on a sidewalk which was the look I wanted. After that I sponged on some clear glaze, mostly to keep the chalk from smearing and to set it, but it will make the vase shiny in the end. This didn't make the firing either, as it is a cone 04-05 which goes to a much lower temperature than the others. We'll see soon how they turn out.