Understudy becomes the Star!
So WAY back last fall I guess it was, I was participating in Secret Pal 5 with the knitty board. For whatever reason, my pal flaked, and didn't fufill her end of the deal, so I was assigned a replacement pal, an "understudy" if you will, which is what she decided to call herself. Really she was the upstream pal of the girl who flaked, and so got left out of the equation. Her first package in November was awesome, and as the round was pretty much over by that point, I didn't really expect a lot. In the package, she sent a really neat faire isle pattern, which I had been wanting to try, and as it was a felted project, mistakes would be minimized, so making faire isle less daunting. I tried it out and LOVED it. (will definately be doing more off that)
Sometime after the first of the year, when it was still coldish out, I received another great package. It seemed my understudy had been under the weather for a while, and this package was really neat too. Lots of Harry Potter themed patterns and yummy spices and recipes. I think that was in the midst of trying to finish Clapotis.. again, it was a great package and I wasn't expecting anything else as she had out done herself on both packages, and the round was long over.
I didn't participate in SP6, but am now participating in SP7 (and CASP2), so when Robert came to pick me up, and told me I had a package at the house, my first thought was that it was one of these pals. But it turned out to be Understudy, with a Third TOTALLY UNEXPECTED Package! when he told me where the return address was from I knew it was she, as I had figured her out in chat a few weeks ago from something she happened to mention.... so I get home and open the box to all this goodness, and am truly overwhelmed! She REALLY out did herself.
so without further adieu: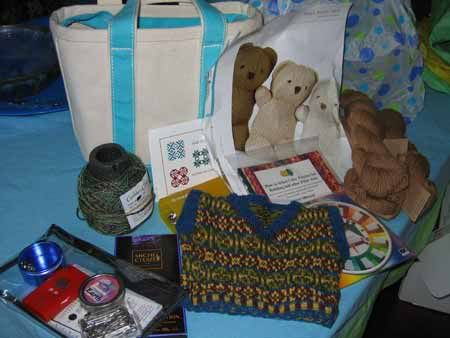 so everything was in the bag, which is a canvas bag, and way cool, since my grandparents had a lot of these bags (larger) growing up to cart stuff to the lake, and to the pool and whereever, and I love them. BUT not only is the bag cool in that regard, but here is what I was wearnig today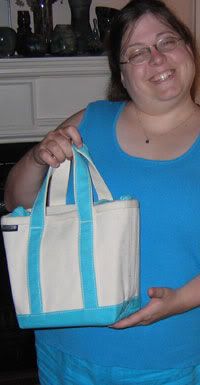 inside the bag lots of goodies...yarn for Baby Bobbi Bear with his pattern, a faire isle sweater she knit herself (I'm hoping it will fit Bobbi when I'm done) ...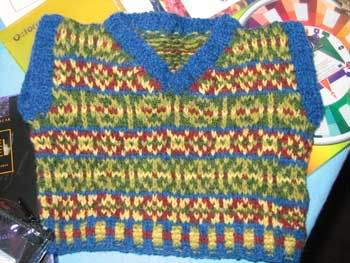 ...some kind of chocolate I've never seen before from Paris (Michel Cluizel), a really cool color wheel with a booklet on selecting color palettes for things like faire isle, an index card notebook, a plastic case with a stitch counter, pins for blocking, hand cream stuff, a tin with stitch markers and a guage/needle sizer, with a lovely note on a faie isle card. and this really really lovely artfibers yarn called golden Chai which says itis 100% golden tussah silk..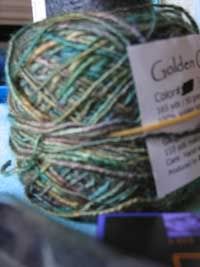 Thank you Understudy! Despite the lenth of this post, I'm feeling rather speechless..