Northern Lights Start
Here is the progress I've made on my Northern Lights Fair Isle mittens.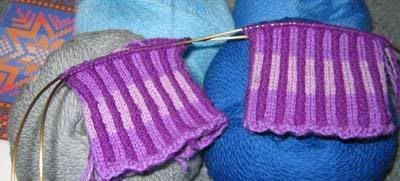 They are going to be seven colors when all is said and done, the remaining 4 colors are sitting under what I have knit, and the pattern is off to the left, although I'm not using their color palette. Most of this has been done between light cues for Neal Simon's "Proposals" which I'm running lights for at the theatre right now. I doubt I'll finish them next weekend, but you never know. They are going faster than I thought, but would be going a lot faster if I wasn't having to untangle yarn all the time. That is the worst thing about fair isle, the yarn gets all tangled.
got some freelance to do, so this will have to suffice for now.
(the cigar gloves are done, except for the weaving in)