more Raku business
Before we get to the Raku, I love this little vase, and you didn't get to see it properly before...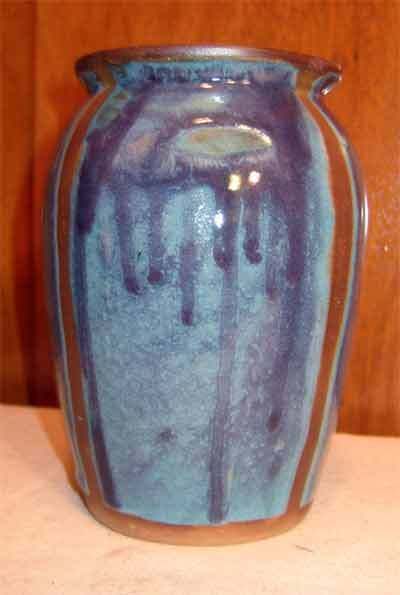 These three are my firings from last night's raku fire. Two of the pieces use a new glazing technique I was trying out. I'm happy with the results, although the second glaze we've discovered melts at a highter temperature, so didn't melt all the way, and was still producing texture, which is cool, but not the overall desired effect. I'm not unhappy with them, but would have liked for that glaze to have worked right. They are going to tweak it some before the next firing though.
Click on the image to see inside the pots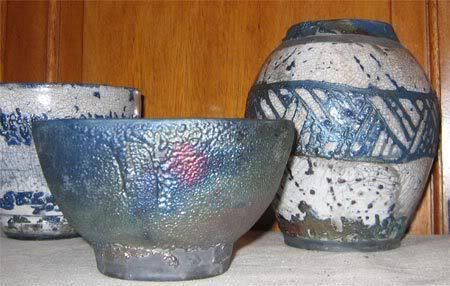 Here is a closeup of the bowl that was on the left in the previous shot.
Click on the image to see inside the pot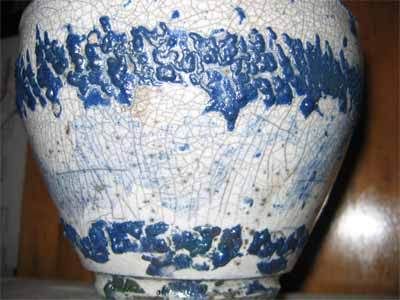 Closeup of the one on the right in the trio photo...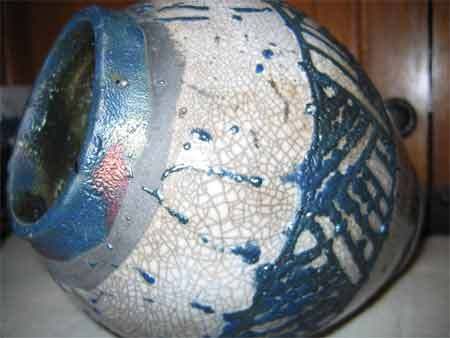 The inside of the middle one... This glaze is called Hawaiian Blue, and is quite lovely.. but is the one not melting completely. When it is correct, it will still produce these lovely colors, but won't be as bumpy textured, although will be more matte finish than high gloss... which is part of what I like about it.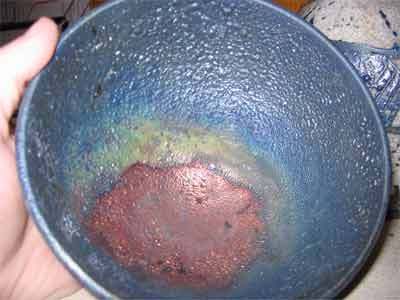 I work in advertising, and do outdoor boards all the time, but not often do I get one I designed from scratch... this goes with the ball materials which is happenining this weekend. This is a "poster" board meaning it is still put up with a bunch of sheets of paper put together instead of vinyl like a lot of them are these days... it has rained a bunch since this one went up, so it looks a little worse for wear, since I didnt' get it photographed before the rain came... but here it is...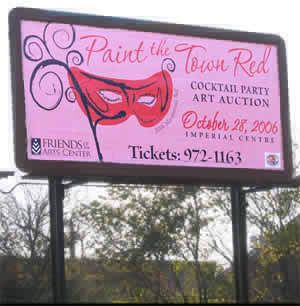 We're looking forward to the event, it is going to be fun.
And finally for Halloween: Here's a friend's mask in the Raku Reduction bin...