Knitting Update..
My life is CRAZY Busy right now. Work is really busy, play practice is in full swing (we open in 3 weeks) Tap class started back this week, as did pottery class.. in addition to the retreat I went on last weekend.. then I had 2 calls for new freelance this week. BUSY BUSY BUSY... I still have to finish the cuff on my socks.. hopefully in the car tomorrow on the way to Raleigh to see Light in the Piazza and for "Valentines" Dinner. But additionally I've been working on Northern Lights. This one is harder to work on a lot since it is a charted pattern, and only my second fair isle, so I have to pay attention. (I've got the palm side memorized for now, but the back is a pay attention place.. and since I'm doing them two at once on two circs, I have to pay attention to where I am) anyway, here are some progress photos..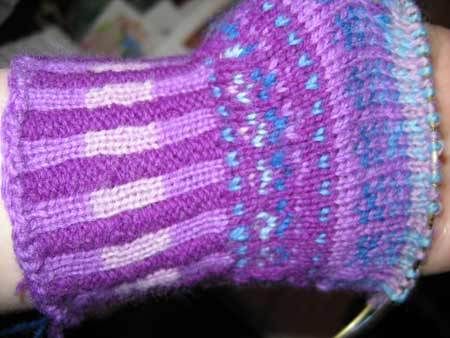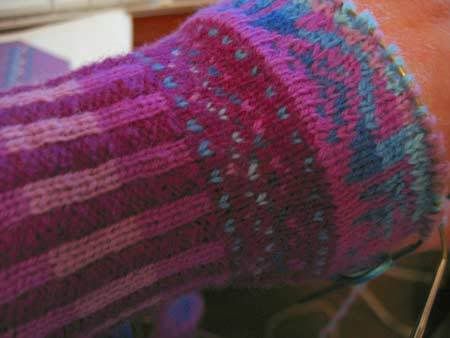 The color on the first is a little better than on the second, the real color is redder than the first and not as red as the second. Maybe I'll have them done before June.
In other news, The teapot is drying and should be bisque fired in the somewhat near future. We didn't forget all our tap steps over Christmas Break, the play seems to be coming along, I have to go to my cousin's wedding the weekend the next Potter Movie comes out, but I'm thankful they aren't getting married the following weekend, which is when the next and final book is coming out. Sunday I hope to go to an organ concert where the woman is going to improvise to the silent film of "Phantom of the Opera" I heard her concert last time she was in town, and it was great, so I'm looking forward to that. OH! I've been informed I've won 2 Addy awards. The banquet isn't until next week, so I don't know if they are gold, silver or what.... I only entered 2 pieces, so that is pretty good return I'd say. I think they let people know early in some cases to make sure they come.. So next week will be busy too. Late march things should slow down a little... after the play is over..