Addy Awards
I only entered one thing in the Addy Awards this year. (they are the advertising awards and they are judged on three levels. local- for an area of a state, in this case eastern NC, regional-we are in region III which constitutes VA, NC, & SC (thre are 14 regions), and national, which is self explanitory. Those awards are in June, but the judging will be at the end of April.) Our local awards were held Friday night.
Here is what I entered: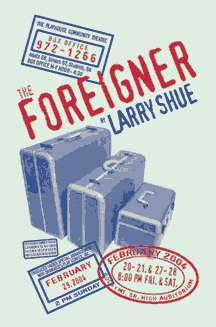 This was a poster for the Playhouse Community Theatre I did as "freelance" work & it is one of my favorite comedies. (It's about a shy Englishman who is taken to a country lodge in Georgia, and since he doesn't want to interact with people, his friend tells the lodgers that he is foreign and doesn't speak English. This makes him interesting to them...and they get more than they bargained for...including some locals who don't like "foreigners")
I went to the awards knowing that I had achieved a "Gold" award at the local level. The company I had interviewed with were the ones collecting entries, and so they even had shown me what I was up against in my category. It was another poster that I really liked, and felt like it was "Gold" worthy too. Turned out, it was, so we both won "Gold" but then I was also awarded a "Judges' Award of Excellence" which I think is the same kind of thing I won a few years ago with antother poster only then it was called a "Special Judges' Award" At any rate, this is a pretty "big deal" as far as the awards go, since essentially it is created by the judges' for things that aren't eligable for the actual "best of" awards because of the categories they are in. (at least that is how it was explained to me, so in a way it is almost cooler than a "best of" because it was created just for me... they don't HAVE to give it out.--Looking at the rules, I'm not sure if my category was or was not eligable for the "best of" awards, but either way this award was a credation for my work. and it was the only "special" award given.)
What's next? Because I won "gold" my work is forwarded free to me to the regional competiton, (silver winners may forward their work too if they so desire, but must pay the entry fee themselves) I looked on-line and the Third district Judging will be March 25-26 in SC. So I have about a month to wait. The last poster that did this well, actually won a silver at regional, and I forwardded it to Nationals, but it didn't place. I think this poster has a pretty good chance at placing someplace at regionals too. (they allow silvers to be forwarded because obviously the judging for this kind of thing is subjective to the the judges opinions, and sometimes silvers on one level place differntly on another because the Judges are different, but the competition gets tougher the higher level you get to, so even a silver at regional is pretty impressive.) In the long run it may not mean a lot, but for now it *might* help me find a job, but in the very least, I get a boost of confidence in my abilities, and bragging rites, since the agency that laid me off only placed silvers at local this year.
Keep your fingers crossed for regionals. ;)