Springtime for Teddy
I finished this scarf a few weeks ago, and Teddy has stolen it.. He claims he did it so as not to get pinched on St. Patrick's Day, but he hasn't given it up yet either... Here he is out in the garden with it on.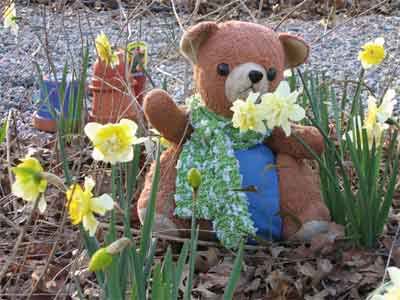 and up close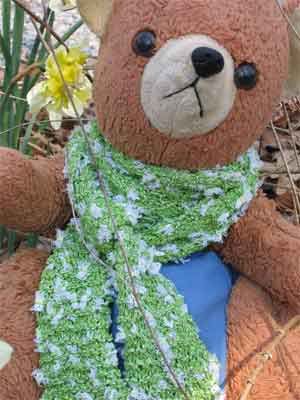 The yarn knitted up like a field of daisys. The little white areas have yellow centers that may not be apparent on the photos. The other colorways knitted up to look like Butterflies, or flowers but on other backgrounds....I saw it in a denim blue color (which Queltic bought) and a red. all of which had white "flowers".
Been doing some other knittting/felting, but part of that is for my Secret Pal, and it is taking longer than I anticipated... sorry for the Delay SP if you're reading this. I hope to finish it up soon.
This is the week for regional judging of the Addy Awards.. Keep your fingers crossed please.
I'm happy with the finalists in American Idol. A little sad Mario quit, but I didn't think he was going to WIN, but happy Nikko is back. It is going to get tough though, since there are so many good finalists, and not a lot of ones I really don't like as there have been in years past.
Job hunt is frustrating at the moment, but I'm plugging along.
Pottery is going well. I have had further success with the wheel, so I'm very pleased wtih my progress. It's not perfect, but things are much straighter than they were, and I'm able to throw taller things now (probably between 6 and 12 inches) Photos to come soon.