Catching up...
Ive been a bad Blogger. So, here is what I've been up to... in the pottery studio....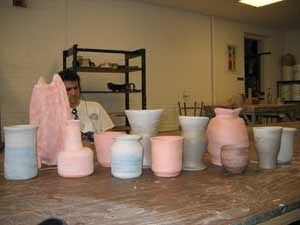 the lighter colored clay items are raku clay some of which have colored terra sig worked into them, others later got underglaze added. These will be Raku fired in a few weeks (The one on the far left blew out it's base in tbe bisque fire... it wasn't dry enough. This photo is actually a few weeks old, (that's DSO in the background) and my taller vessle throwing techniques have improved... so I'm pleased.
My Super Secret Pal SaintJay sent my final package the other day.... here are the images. She has been great, and definately made my first secret pal round enjoyable.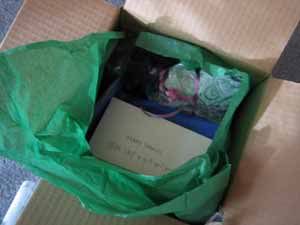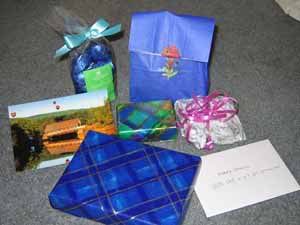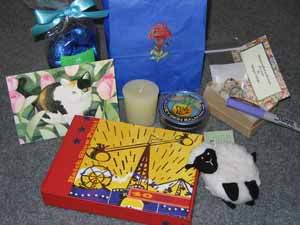 for this round I had been sending to Clothesknit, here are some images I can finally show you of the tulip I made and felted for her, since Tulips are her favorite flower.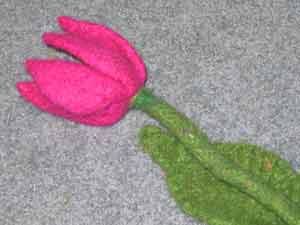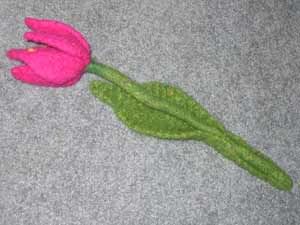 In other news... I'm sorry Nadia was eliminated from American idol this week. (she DID make a poor song selection though) I'm so ready for Scott Savol to be gone though... (since Anthony actually did well this week finally) Although (and I've been arguing with my friend Nicole about this,) I think Bo should have been eliminated by even SUGGESTING to sing Freebird, much less actually singing it... That is so the bad cleché cover band joke.... I still think Nadia is way more talented than a few of the guys who are left though.... I hope someone gives her a break.
I have new respect for the clergy. I've been working at a church for about a week and a half in a temporary capacity filling in for an administrative secretary who fell and broke her wrist. (which is mostly why my life has been crazy lately) In that time, in addition to working on a PC (I'm a mac user) using Publisher instead of my usual Adobe Creative Suite, trying to get the "normal" church publications done including their monthly newsletter (none of which I'm familiar with, re-designing one of them), there have been THREE funerals!!! It has been crazy... these people never get a day off it seems. (and I have new amusement for "Keeping Up Appearances" ;) )
We're under 100 days in the countdown to the next Harry Potter book, and the good films that we are excited to see this year are about to debut in the theaters.
I've had several interviews recently, they all seemed to go well. No offers yet though. In at least one of the interviews though they told me I was the first one they were interviewing... so we are playing the waiting game... all the places have their pros and cons... I'm trying not to pick a favorite though. I did send a resume off to "The Mouse" (but so did a million other people probably) I think it would be a fun job doing graphic design for them (plus they now own the Muppets, and produce shows on Broadway--can you say DREAM JOBS?)... but it is a VERY BIG LONG SHOT. They won't hire me if I don't apply, so what do I have to lose?
Robert has discovered e-music and loves the subscription service they have. It's mostly smaller label things with a lot of world music and whatnot. Perfect for him. He is excited because he will be able to replace a lot of his Music collection he sold off for financial reasons a few years ago at a fraction of the cost. They have some things I'm interested in as well, but I'm not buying anything at the moment. Problem is, with things like Brodway Cast Recordings I WANT the cover art and liner notes which you don't get with these services. It would be nice if they put themm in .pdf files or something so you could have the information from a downloaded album... it's only a matter of time I'm sure.
I think that is about all the big news at the moment....