It's Too Darn Hot
For the last 3 days temperatures have reached 100 degrees. That and the humidity has us all pretty wilted. I'm looking foward to the weekend when it is only supposed to be in the upper 80's! That should feel like heaven. Not only that, but we are having a friend visit who we haven't seen in about 2 years, she is stopping in town on her way to see some other friends next week. And after she leaves, I am supposed to call another friend who I've recently been back in touch with (thanks to the bombings in London... not that I want them to happen, but something good came out of it for me) and we are supposed to get together soon. I haven't seen him in several years either, and haven't spent a lot of time with him in close to 10 years. He was on my study abroad trip to London 10 years ago, and one of the stations that was in the recent bombings was the primary station we used while we were there. It was really scary to think about, and since he still does the program a lot of times, I called him to see if he was there and allright. We live an hour away from each other, but our schedules never seem to meet up, and this prompted me to contact him. He isn't doing the program this year, but was set to go to London between the two recent bombings, in fact the second bombing happened while he was enroute back to the states. I'm happy that I am back in touch with him, and it is one of those friendships where you just kind of pick up where you left off.
In one of my last posts, I mentioned the Harry Potter book release and reading. Here is a photo taken about 12:15 am on the day of the release, just before we started reading.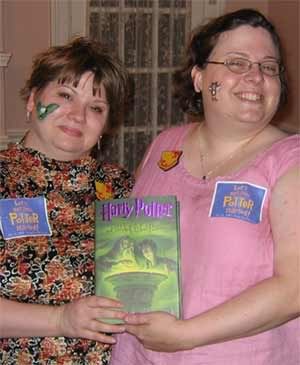 We had our faces painted at the bookstore, my friend got Dobby, who is looking a little green, and I got an owl. We were "sorted" into Gryffendor House... and in the spirit of the title of this post, the bookstore was HOT... too many people too little air. We had bought a King Cake from New Orleans for the occasion as well. We thought it would be approproate for "The Half Blood Prince" and the traditional king cake/Mardi Gras colors are Gold Green and Purple, which were also the colors of the book. The boook is great, and I'm still not posting any spoilers.
In the Knitting front Teddy really wants an I-pod, and he thought my knitting was earphones for him.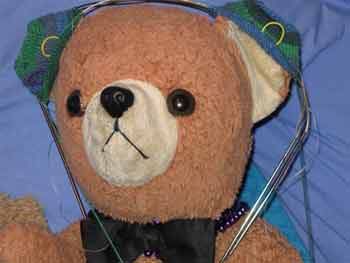 I'm using the crazy heels and toes toe up two socks at once method, and I tell you, this is the only way to go. I think I messed up the cast on, but otherwise, this way rocks!!! You knit them together, so they finish at the same time. No waiting around for the second one to be done. It is a pattern by Queen Kahuna and may be found here:
Queen Kahuna Creations
On the theater front, (scroll down to compare where they were a month ago) Here is the side/back view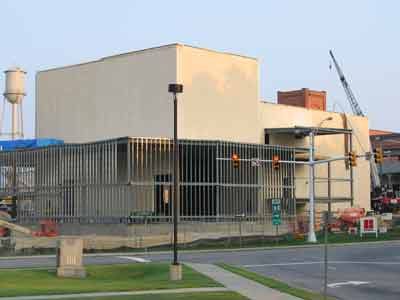 and the side front view, the taller part is the fly gallery near the procenium that you could see in the former photos, same basic angle for this photo, only more of the building is up now. It is really coming along.
I've been listening a lot to the score for Dirty Rotten Scoundrels, it is so much fun. The great thing this year is the 4 major contenders for the Tony awards that were given out in June, are all hits, something that hasn't happened very often in recent years. I'm hoping it is a trend that will continue. I'm very much looking forward to the fall when we get the release of not one but two movie musicals. (well one of them is in December, but it will still be this year) Rent, and The Producers (yes they are making another movie of it, this time of the musical more like it is on Broadway. I love the Original with Zero Mostel and Gene Wilder, but the musical is so much fun too and differs story wise from the original film.--And Nathan Lane and Matthew Broderick are brilliant just as Zero and Gene were.)
On the work front, I registered with a local employment service at the end of last week, sent out some other resumes, and this afternoon got a call to come in and freelance for tomorrow and possibly Friday (and who knows from there) for the place I was freelancing in Raleigh before.
Well that's about it for now. Stay Cool.