Secret Pal finale
I recieved my final package from Secret Pal 4 yesterday. My wonderful pal turned out to be kakegoddess. She lives about an hour from me, so maybe we'll be able to actually meet up at some point. She sent some lovely yarn in a peony kind of pinky color that is a cotton blend, and really soft, and a green wool. Some really cool swirly washcloths that she made herself. A lovely sketchbook and some very fun postcards. Thanks kakegoddess, you are the best!!!!
Here is the photo: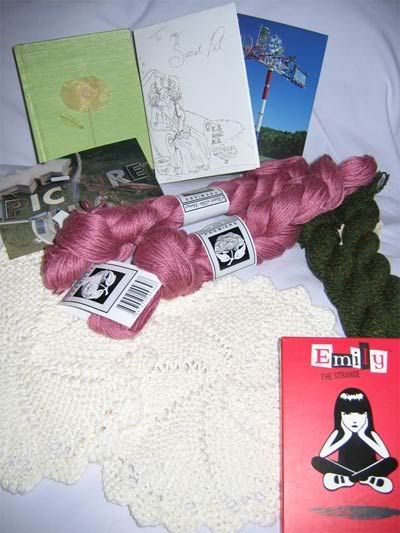 But in addition she actually drew this card for me. (for any non Potter fans, this is Hermione knitting. :) Really cool)
She is very talented. :)
I haven't been knitting a lot this week. I have been working on some pottery. I threw a really nice BIG bowl on Saturday, unfortunately, when I went to trim it on Sunday, I runied it. The edges were too dried out and brittle (they were pretty thin) and it broke. I threw a couple of other bowls though, not quite as big though, since it had taken me a while to do the first one. I had hoped to have some finished before visiting my aunt this summer, since she gave me her pottery tools last year, but unfortunately they havne't been fired yet, and so glazing them before the weekend is out, and we are visiting them this weekend. I could take some Raku to her, but the vases really shouldn't hold water becasue they are still pourous, and that would be less functional for her. I guess it can wait until Christmas.